DOWNTOWN MIAMI
Pre-Construction Opportunity
Prices starting in the low $500's
600 MWC PRE-CONSTRUCTION CONDOS
600 Northeast 1st Avenue, Miami, FL 33132 | Neighborhood: Downtown Miami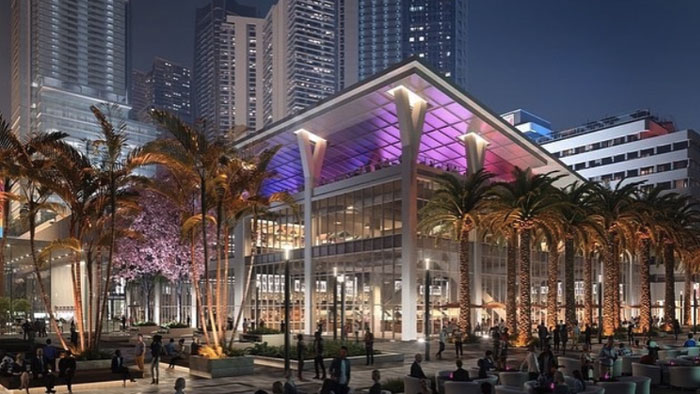 Located in the vibrant heart of Downtown Miami, 600 Miami Worldcenter is the latest condominium development offering fully furnished and equipped residential unit for sale with no rental restrictions. 600 Miami Worldcenter is being developed with the investor in mind, allowing the owners the rent daily and get the highest return on their investment.
Located just steps away from the Brightline train station, FTX Arena, and 15 minutes from the Miami International Airport. Miami Worldcenter is located in the heart of Downtown Miami, one of the city's fastest growing neighborhoods. And see for yourself why investing in a project that belongs to the 2nd largest urban development in the US is a great opportunity!

Fully Furnished Residences with No Minimum Rental Restrictions. Sales for 600 Miami Worldcenter have started and units an be reserved for as little as 10% down.  Prices start at $504,000.
RESIDENTIAL INTERIORS
Fully finished and furnished residences thoughtfully curated by award-winning design firm, The Design Agency.
• Floor to ceiling glass windows with custom window treatment
• All residences feature balconies
• Finished flooring on all residential interiors
• Kitchens and bathrooms feature custom Italian cabinetry and counters
•  Innovative household Smeg (or comparable appliances featuring:
   – Speed oven
   – Integrated paneled refrigerator/freezer
   – Dishwasher
• Top-of-the line, separate, in-unit washers and dryers
• Fully built-out, generous closets
BUILDING FEATURES & AMENITIES
• Covered porte-cochère
• 24-Hour attended lobby
• Luxer One automated parcel storage
• Air conditioned resident storage
• Bike storage
• Resident lounge and entertaining space
• Game lounge with wet bar and dedicated outdoor gaming terrace
• Recreation room with classic arcade-style games
• Media room for gaming and movie streaming
• Summer kitchen
• Dedicated co-working space with content creation suites
• World-class state-of-the-art fitness center with outdoor private training area by Homage Fitness
• Wellness Center with treatment rooms and sauna
• Rooftop swimming pool with resort seating
WORK & PLAY
• Located within Miami Worldcenter – the new capital of business, commerce, hospitality and more
• Walking distance to Miami-Dade Arena, Biscayne Bay Waterfront, Museum Park, and other key destinations
• Seconds from Brightline, Metrorail, Metromover, and major highways
• Minutes to Miami International Airport by car or train
Interested in buying at 600 Miami Worldcenter?
Learn more about buying pre-construction at 600 Miami Worldcenter with Josh Stein.
600 Miami Worldcenter Amenities
• Dedicated co-working space
• Covered porte-cochère
• 24-Hour attended lobby
• Luxer one automated parcel storage
• Resident lounge and entertaining space
• Air conditioned resident storage
• Bike storage
• Summer kitchen
• Rooftop swimming pool with resort seating
• World-class state-of-the-art fitness center with outdoor private training area by Homage Fitness
• Located within Miami World Center – the new capital of business, commerce, hospitality and more
• Walking distance to FTX Arena, Biscayne Bay Waterfront, Museum Park, and other key destinations
• Seconds from Brightline, Metrorail, Metromover, and major highways
• Minutes to Miami International Airport by car or train
| | | | | | | | | |
| --- | --- | --- | --- | --- | --- | --- | --- | --- |
| Line | Beds | Baths | Sqft(int) | Sqft(ext) | Sqft total | M2 (int) | M2 (ext) | M2 (Total) |
| Unit A2 | 2 | 2 | 830 | 77 | 187 | 17 | 1,017 | 94 |
| Unit B | 1 + Den | 2 | 603 | 40 | 643 | 56 | 4 | 60 |
| Unit B.1 | 1 + Den | 2 | 668 | 40 | 708 | 62 | 4 | 66 |
| Unit B.2 | 1 + Den | 2 | 622 | 43 | 665 | 57 | 4 | 61 |
| Unit B.3 | 1 + Den | 2 | 635 | 40 | 675 | 59 | 4 | 63 |
| Unit C | 1 | 1 | 573 | 130 | 703 | 53 | 12 | 65 |
| Unit D | Junior 1 | 1 | 538 | 40 | 578 | 50 | 4 | 54 |
| Unit E | Studio | 1 | 402 | 40 | 442 | 37 | 4 | 41 |
600 Miami Worldcenter Prices
– Studios from $502k
– Junior 1 Beds from $650k
– 2 Beds from $965k
Reservation with only 10%
DEPOSIT STRUCTURE:
10% @ Reservation
10% @ Contract Q2 2023
20% @ Groundbreak Q1 2024
10% @ Top off Q3 2025
50% @ Closing Q4 2026
Have questions? Need advice?

We're experts in the South Florida Luxury Real Estate market and are available to help you with anything you need. Whether you're interested in buying, renting or selling a home or condo, we're available to you 24/7.
Give us a call +1 (305) 695-8257 or email hello@joshsteinrealtor.com

Josh Stein
Global Luxury Realty
+1 (305) 695-8257
We strive to provide a website in which all functionality and content are accessible to all individuals. Should you require assistance in navigating our website or searching for real estate, please contact our offices at +1 (305) 695-8257 | Accessibility | Sitemap